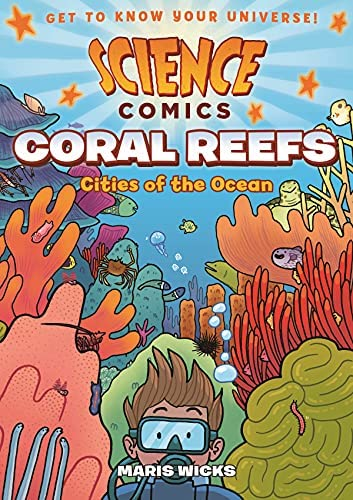 Synopsis
A bespectacled fish who lives in a coral reef explains the origins and biology of coral and describes the interdependent ecosystem that makes the coral reef its home. The book also explains how the coral reef ecosystem impacts the rest of the planet., and how the changes that humans are making on the planet are impacting coral reefs and their continued existences.
Why should I read this book?
Maris Wick's drawing style does a remarkable job of giving us a clear and accurate picture of what corals, sponges, sharks, octopi, phytoplankton, jellys, and the coral reef environment looks like. And yet at the same time, her realistic but cartoonish glasses-wearing fish and humans make the book one that is both accurate but also inviting. She forgoes giving us a weak libretto story that attempts to tie the information about the coral reef into some kind of overall narrative, but instead makes the information she presents interesting through the image and the side comments she makes about the details. The result is a no-nonsense informative book that is a blast to read.
Who is this book best for?
While it seems to be targeted for third through 5th or sixth, the information here is good and could be useful all the way through high school. This would be a great book for a school or classroom library ad would be an excellent book to pair with a oceanography or marine biology unit. It would also be a great book to hand to a student who is interested in marine biology, jellys, sharks, or anything else related to coral reefs.
Challenge Rating:
No Challenge
It acknowledges the existence of global climate change and mentions evolution in several places.
Heads up: Buying via our links may result in us getting a commission. Also, we take your privacy rights seriously. Head here to learn more.