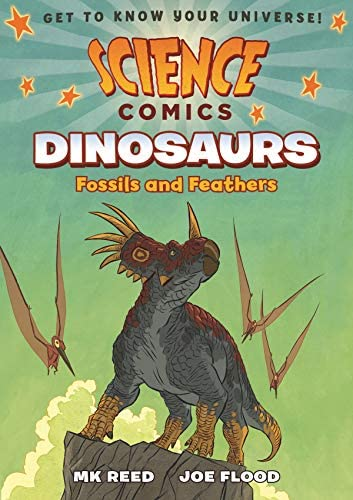 Synopsis
This graphic novel combines spellbinding art with detailed descriptions of dinosaurs' natural history, the mythology surrounding dinosaurs, how fossils happen, how dinosaurs were first discovered, the history of human interactions with dinosaur bones, a thorough discussion of dinosaur typology, and a discussion of the newest data and theories about dinosaurs. The data is strong, the presentation is interesting, and the art is spectacular.
Why should I read this book?
If you have ever had an interest, fascination, or borderline obsession with dinosaurs, this book is for you.
Who is this book best for?
This book has a huge range. I would say anyone interested in dinosaurs from third grade though high school. This would be excellent for classroom and school libraries. If there were a way to work it into a science unit, I am guessing that teacher would be thought of As the most awesome teacher ever by adoring students.
Challenge Rating:
No Challenge
The book does discuss evolution.
Heads up: Buying via our links may result in us getting a commission. Also, we take your privacy rights seriously. Head here to learn more.