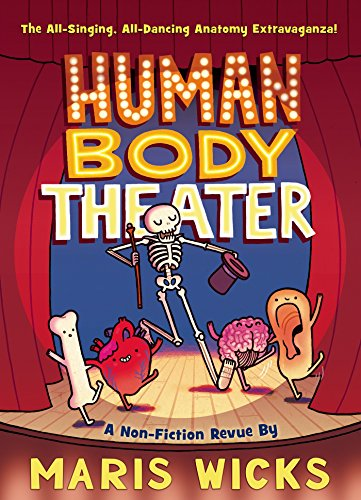 Synopsis
The conceit for this book is that the audience is attending a variety-show-style review in which each system of the body states center stage and describes for us how our body works. Chapters include the skeletal, muscular, respiratory, cardiovascular, digestive, excretory, endocrine, reproductive, and immune systems, as well as the senses. Wicks uses cartoonish depictions of the body parts in such a way that a disembodied heart of talking intestine does not seem a bit disgusting but somehow cute. The research here is up-to-date, solid, and emphasizes the ways the body systems connect with each other. Expect some jokes and puns along the way.
Why should I read this book?
Simple. This is a fun and accurate way to learn about anatomy and health.
Who is this book best for?
This books seems to me to have remarkable range. The drawing style would captivate kids as young as kindergarden, though the vocabulary is more suited to fourth or fifth grade and up. High school students would find this useful. I would see using this along side of a textbook in a high school anatomy class. It would be a good book for classroom and school libraries from fourth grade up. This would be a great book for a PE teacher's library.
Challenge Rating:
Potential Challenge
The section of reproduction is very sensitively handled with careful use of images. There are only two small images of the outside of the body and usually interior views of se organs. But the chapter does discuss menstruation, ouberty, erections, and the fertilization of the egg. In short, it does acknowledge the existence of sex. If you anticipate that members of your community may object to such things, I highly recommend previewing the book first.
Heads up: Buying via our links may result in us getting a commission. Also, we take your privacy rights seriously. Head here to learn more.