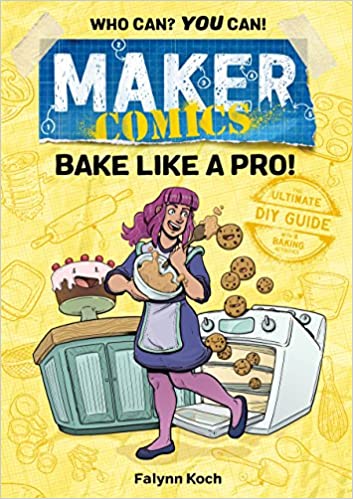 Synopsis
The graphic novel tells the story of a young wizard named Sage who is assigned to study with a senior wizard named Korien, who is an alchemist and a baker.  She is horrified at first because she cannot see how baking could possibly be magical.  As she learns from Korien (through a lot of trial and error) how to bake cakes, chocolate chip cookies, banana bread, cheddar biscuits, pie crust, sponge cake, and more, readers learn along with her.  Along the way they learn safety, proper kitchen etiquette, how to clean up, and even some of the science behind why baking works. By the end, readers will come to realize that "Baking is a tangible form of magic. " (p.4)
Why should I read this book?
It is a fun way to learn how to bake really, really well. The book blends the story and the how-to elements smoothly. The drawing is very helpful to illustrate how everything works. The narrative works surprisingly well and only feels a little bit forced. The characters are drawn in a kind of caricature style that wasn't my favorite, but others might take to it far better than I did.
Who is this book best for?
The short answer is, it would be ideal for anybody who wants to learn how to bake. The vocabulary is pretty basic, strong readers in third or fourth grade could figure it out. It would probably be ideal for 5th through 7th – but I could imagine much older students really liking it too. This one would be great for a classroom library or school library.
Challenge Rating:
No Challenge
While it does have magic in it, I doubt that anybody would seriously challenge it.
Heads up: Buying via our links may result in us getting a commission. Also, we take your privacy rights seriously. Head here to learn more.