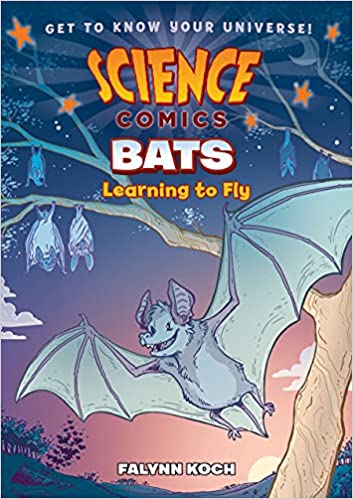 Synopsis
In Bats, we follow a little brown bat whose wing is injured by humans on a nature hike. He is taken to a bat rehabilitation center where he meets many different species of bats. They teach him how they fly, what they eat, and where they like to live.
Why should I read this book?
Some of the earlier books in the series seemed to be struggling to figure out how the graphic novel format could be effectively utilized to explain science. With this book, the series seems to have found its fee. There is a single narrative through-line about a little brown bat and a teenaged girl who initially is not so interested in what the ranger has to day, but when the bat gets close to the group and one of the panicked humans swats it, the girl decides to help the bat in any way she can.
Who is this book best for?
Woven through the narrative is plenty of explanation and exposition about nearly every aspect of a bat's life. There is plenty here to interest students from third grade up. This is an excellent book for your classroom library. It would work as an in-class text as well, though I am not aware of any elementary curriculum that divest that deeply into the biology of a single creature.
Heads up: Buying via our links may result in us getting a commission. Also, we take your privacy rights seriously. Head here to learn more.