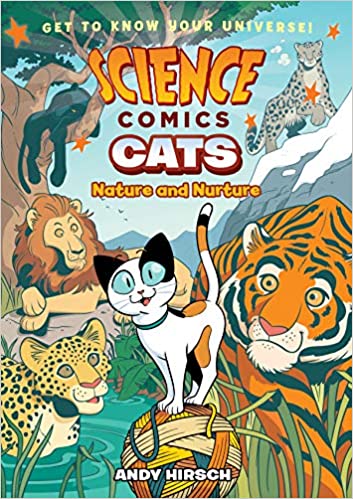 Synopsis
Bean the Kitten is a star of countless cat videos, but takes time out of her busy schedule to describe everything you ever wanted to know (and some things you didn't know you wanted to know) about the anatomy, behavior, and distinguishing characteristics of pretty much every variety of domesticated and wild cat on the planet. With Bean as our guide, and Hirsch's mastery f panel movement providing the structure, readers will enjoy learning about cats and exploring their world.
Why should I read this book?
Honestly, I have never been much of a cat person. I had a dog growing up, my daughters had a couple of rabbits, and my wife has a turtle as a classroom pet. So I am quite certain that I am not the target audience of this book. Having said that, I found it to be fascinating. There are diagrams showing how cats extend and retract their claws, explanations of how they track their prey, stories about how people who think they have seen a black panther are likely mistaken, and an endless array of different adaptations that help varieties of cats survive in almost any environment. Sometimes the narrator, Bean the famous internet cat, is a little annoying, but mostly she is funny and the book is a lot of fun.
Who is this book best for?
Who is this book best for? Fourth-graders through middle school would enjoy this one. Kids who like nonfiction might be especially interested in it.
Challenge Rating:
No Challenge
Heads up: Buying via our links may result in us getting a commission. Also, we take your privacy rights seriously. Head here to learn more.