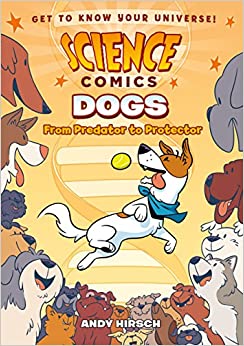 Synopsis
While this looks like a book about dogs (and to be sure, the book covers different species, behavior, and other things) it actually uses dogs to discuss genetics including selection, recessive and dominant traits, fossil records, evolution, domestication, migration, the development of eyes that ca perceive depth, color blindness, how dogs hear different frequencies than we do, smelling acuity, communication, history of dog breeds, and other topics. Rudy the dog is our guide to all of this information and he is an excited, enthusiastic and likable narrator.
Why should I read this book?
The fun thing about informational books is when they introduce us to facts and concepts that are completely new to us. One of my favorite sections in this graphic novel talk about what we know about how dog's navigate their way around. I had no idea that dogs can recognize landmarks or tell their right from left. Also, although, like any informational book there are moments when the storyline gets lost in the exposition, generally the character of Rudy the dog keeps the information from seeming tedious. The images are brightly colored and fun, and although there is a cartoony element to them, the way Hirsch draws dogs stays close enough to what they really look like that, when the text indicates key characteristics of dogs, they are obvious to the reader. I was a little surprised at how much I enjoyed this book (though I should have been – generally speaking, First Second Books has done a fabulous job with this Science Comics Series.
Who is this book best for?
This is a good one for a wide range of readers. Third and fourth graders will understand it (especially if they love dogs) and middle-schoolers and even high school students will likely not consider the book beneath them. There is information in here about genetics that would be helpful for a high school biology class. It would probably be best for a classroom library, though it could be a supplemental text for a genetics unit.
Challenge Rating:
No Challenge
Heads up: Buying via our links may result in us getting a commission. Also, we take your privacy rights seriously. Head here to learn more.