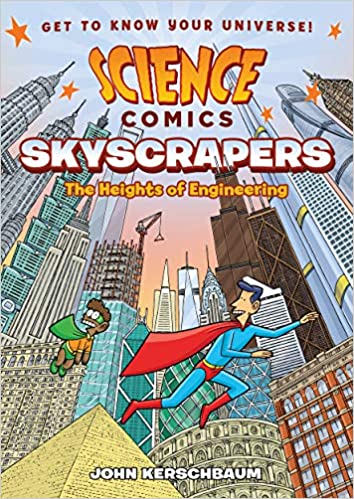 Synopsis
A superhero who looks remarkably similar to another guy with a cape and an S on his chest, along with his sidekick Quiz Kid, finds out of about the history, engineering, and design of skyscrapers by literally running into them during patrols of the city and going back in time to look at the design elements of the pyramids, medieval cathedrals, and the first real skyscrapers. Along the way the reader learns about the forces of gravity, compression, wind shear, and other aspects of physics that are part of designing a skyscraper.
Why should I read this book?
Mostly because this book is clever. Providing a narrative to keep students interest in a graphic novels that is mostly a non-fiction informational book can be hard to pull off. It is easy for such a the story to seem too weak to support the information and see hackneyed and fake. Or sometimes that sort of story is too strong and it is hard to work in all the detail and information. Kerschbaum treads that line well, and has a bit of fun with it along the way. There are plenty of veiled superhero references and jokes along the way that sharper kids will enjoy catching. Kerschbaum also presents information about skyscrapers in terms of larger concepts, which helps keep it from becoming a list of facts. The art come across as a wonderful combination of comic book backgrounds, angles, and panel and page design, and characters that owe a lot to Matt Groening's style on "The Simpsons." The bottom line is that the book is a lot of fun to read.
Who is this book best for?
I would say fifth or sixth graders who are really interested in the topic would like it. On up through high school where they might think the illustrations are beneath them, but will find the explanations to be really helpful.
Challenge Rating:
No Challenge
Heads up: Buying via our links may result in us getting a commission. Also, we take your privacy rights seriously. Head here to learn more.