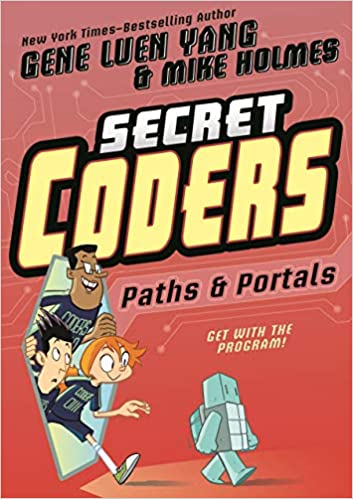 Synopsis
The Coders are back. Hopper, Eni, and Josh now discover that Mr. Bee, the grumpy janitor from the first book, was once a teacher at the school, and he begins to teach them while at the same time, they begin to dig into some of the suspicious doings that the dean of the school (and his pet rugby team) seem involved in. When the dean captures one of the janitor's robots, and then the janitor himself, the secret coders need to decide if it is worth unleashing chaos to set the janitor free.
Why should I read this book?
There is a lot of learning in this book, but Yang embeds the instruction into the stories so completely that many students won't even notice they are learning coding, geometry, and even how to write letters in mandarin Chinese. Yang takes his time with both character development and plot development probably because he knows he will have many books in the series to develop these aspects more fully.
Who is this book best for?
What makes this such a great book for a math classroom library is that the math stuff is solid, but deeply embedded in the experiences of the children. This book goes a long way toward helping students see the answer to the perennial questions, "What are we going to use this stuff for?" Holmes's artistic style seems drawn from Saturday morning cartoons. The characters are drawn in part like caricatures, but there is enough realism built in that a student can get lost in the world of the book. If you teach math or coding, you need this book now.
Challenge Rating:
No Challenge
Heads up: Buying via our links may result in us getting a commission. Also, we take your privacy rights seriously. Head here to learn more.