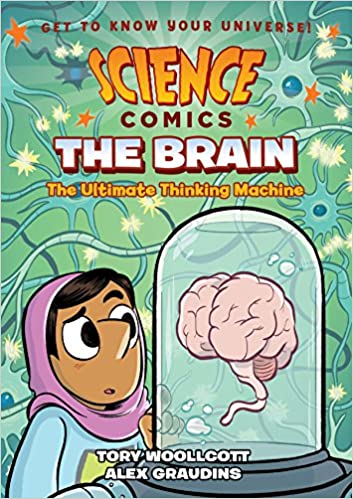 Synopsis
Usually First Second's Science Comics series does a nice job of integrating the narrative story with the exposition. At times this one is not so smooth. The story is about a girl selling cookies who is captured by a mad scientist (who is actually a brain connected to a robot body) and his zombie assistant. While awaiting rescue, she must stop him from dissecting her brain by asking his questions about brains and how they work. The problem is not so much that the story is ridiculously cheesy (though it is) it is more that the subject of the book – the brain, has been cast as the villain but the hero, who is mostly focused on selling enough cookies to destroy her rivals) is not very likable either. While Nour is sometimes interested in what the mad scientist has to say, at other times, she is trying to escape and is ignoring what he is saying.
Why should I read this book?
There is some interesting information about the brain here.
Who is this book best for?
Maybe 4th through 6th graders who really want to learn about the brain.
Challenge Rating:
No Challenge
Heads up: Buying via our links may result in us getting a commission. Also, we take your privacy rights seriously. Head here to learn more.