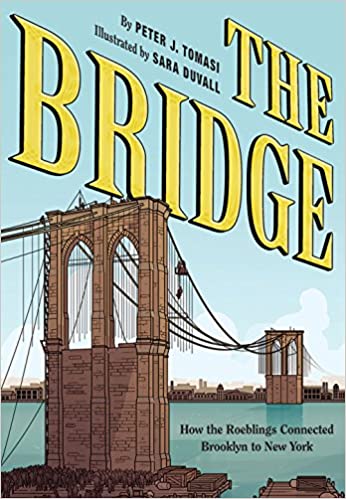 Synopsis
Washington Roebling was the chief engineer on the project to build a bridge across the east river, linking Brooklyn to New York began. Washington supervised the sinking of the giant pressurized caissons, often taking the same risks the workers were. As a result, well into the project, Washington began suffering ill effects from moving too swiftly form a pressurized environment to one with a normal atmosphere (the bends). Before long he was laid up in bed, studying the progress on the bridge form his apartment via a telescope and relying on his wife Emily to carry his instructions to the workers and to address the board of trustees for the project. Together they delt with difficult building conditions, the objections of the board, fraud by suppliers and more, but in the end, they succeeded in building a bridge once called the eighth wonder of the world.
Why should I read this book?
It is a fascinating story to begin with, but Duvall's drawings bring it to life. The realistic rendering of the characters, the accurate representations of the building tech niques, and the masterful deployment of panels make for a story that satisfyingly portrays a tale of endurance, commitment, and triumph.
Who is this book best for?
Fourth grade through high school and anyone who is interested in engineering, particularly civil. It would be an excellent addition to science, history, and English classroom libraries, it would be perfect for middle school and high school libraries. There are some themes of illness and injury, but no major gore in the novel outside of some blood. The vocabulary would be best suited for a middle school or above audience; with the nuances of the novel, there is a depth that will engage students all the way to the undergraduate level. A great novel for any classroom library, particularly those in North America.
Challenge Rating:
No Challenge
Heads up: Buying via our links may result in us getting a commission. Also, we take your privacy rights seriously. Head here to learn more.